Apollo 11: As They Shot It
For the 50th anniversary of the Apollo 11 moon landing, we created a new, spatial way to understand the iconic photography taken by Buzz Aldrin and Neil Armstrong on that day in 1969. One of the big challenges of this project was finding a way to take a subject that had been covered endlessly for the last 50 years, and giving readers a fresh perspective. Our new AR and 3D-web capabilities turned out to be a great solution. Referencing maps that identified where every photograph was taken, we were able give readers the ability to see the photographs from the moon in a new light, reconstructing their relationships to one another spatially, and therefore offering a new understanding of the images.
View the interactive
here
.
The project includes augmented reality features that allow readers to project the photographs around them in space, and have the experience of "taking" them themselves.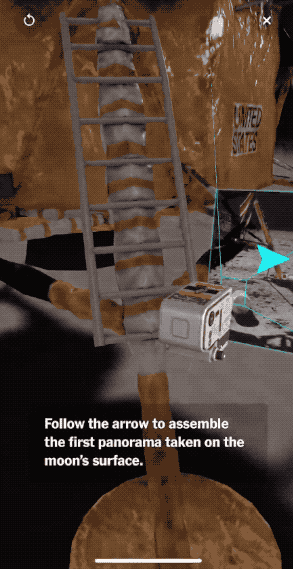 In addition, we collaborated with The Mill to produce a Virtual Reality installation experience of the project for the Times Event,
One Giant Leap.

The experience allows viewers to stand on the surface of the moon and take photographs using the Hasselblad camera, just as Buzz and Neil did.
Here is a sizzle of the experience:
Read about how this project came together in this
Times Insider
© The New York Times © Grahaphics